Shahrukh Khan organized a press conference after the ugly incident that took place last night. Apparently, SRK abused the MCA officials, which lead to the actor being banned from the Wankhede Stadium in Mumbai.
Here's Shahrukh Khan's version of what transpired after the IPL match late last night.
"There were a few IPL official who misbehaved and said they will call the head here. I said, please call them here and tell them not to speak to me like this."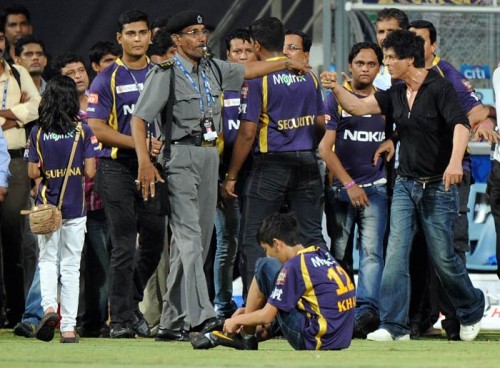 Asked if he has apologized to the officials, the actor said "I think they should apologize to me, for behaving the way they did. There were several people who were rushing at me, I am extremely disturbed that they should man handle children in the name of security. There were little kids, who were leaving the stadium. They have no right to touch little girls, who are not even 13 years old, physically. I think it's completely unpardonable. We were not on the pitch, we were on the sidelines. You can check the pictures."
On being banned from the Wankhede stadium, SRK said "Personally, if this is the kind of behavior that is meted out to people at this stadium, I wouldn't want to go there myself."
When one journalist asked if he was drunk "I was not drunk! I had gone there to pick my children. The officials were extremely extremely aggressive. I just got angry, but I left after that. I said a few things in anger."
Stay tuned, pictures from the Wankhede Stadium and the press conference coming up.
Advertisements