Shaad Ali made two enjoyable films at the start of his career when he directed films like Saathiya and Bunty Aur Babli. But after that he made one of the biggest debacles of last decade in the form of Jhoom Barabar Jhoom. That forced him to take a sabbatical and now he's back after seven years with Kill Dil. Although there has been a concerted effort to promote the film during the last few days, the buzz is just about fair. Apart from Ranveer, the lead cast is coming back after disappointments (Parineeti – Dawat-e-Ishq, Ali Zafar – Total Siyappa). Are they all (including Shaad) able to find redemption with Kill Dil?
Story: Kill/Dil is about two henchmen, Tutu and Dev (Ali Zafar and Ranveer) of a raunchy caricaturish Godfather type character called Bhaiyaji (Govinda) who resides in Delhi NCR. All of their crimes happen in and around the capital city. Trouble arises when Dev meets this rich activist called Disha (Parineeti Chopra) and falls in love with her. Disha normally rehabilitates criminals as her day time hobby. Dev is torn between his father-like boss and his boss-like love. Various situations lead up from this and Kill/Dil ends with a whimper of sorts as far as the arc of storyline is cincerned.
Kill Dil is a disappointment of big proportions. There are lots of reasons for that but the biggest reason has to be the crazily shabby script which shows not even the littlest bit of research or cohesion. The film changes genres many times throughout its running time and the viewer is ultimately left confused about the type of film they came to watch and enjoy. Director Shaadi Ali is largely responsible for the hackneyed script and an even messier film. Kill Dill just doesn't work. There are very few redeeming moments. The subtle Nirupa Roy and Alok Nath sequence and a long monologe sequence and a smartly shot song sequence showcasing the dilemma in Dev's life are the only redeeming points of Kill Dil.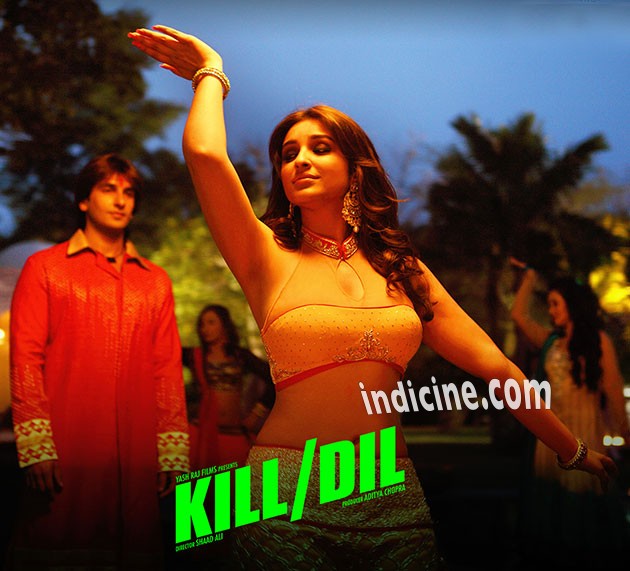 Kill Dil Movie Review
If Shaad Ali was trying to achieve the look and tone of 90s action potboilers then he did partially succeed, but if it was not the intention then it has to be said that Kill Dil feels stubbornly dated. The action set pieces, though are stylishly shot. The costume designs are outlandish and Parineeti hasn't worn more unflattering clothes in a film ever. The music of Kill Dil is average and Shankar Ehsaan Loy are back to form almost. But the music and the excessive songs kill the pace of Kill Dil.
It's baffling why they decided to include so many songs in a film about gangsters and the gangster dilemma?!
The actors in Kill Dil rise above the lackadaisical script and provide glimpses of their talent. Govinda is wasted in the film and his dramatic chops are not fully explored except for one genius scene. Directors, Govinda is much more than his dancing thumkas! Ranveer gets chances to show off his dramatic chops but he falls short. He is a fine actor, no doubt, but he needs to work on his dramatic acting. His chemistry with Govinda and Ali Zafar work better than his chemistry with Parineeti. Ali Zafar is miscast in his role and doesn't get to do a lot except for being the fourth cog in the wheel. Parineeti Chopra looks bad in Kill Dil because of the unflattering clothes she has been made to wear. It pains us to see such a talented actress being wasted playing different variations of the same character in film after film. Alok Nath is okay in his cameo role.
Conclusion: Our expectations from Kill Dil weren't exactly sky high keeping in mind the previous effort of director Shaad Ali, but Kill Dil turns out to be bad even by those standards. It is unoriginal, hackneyed, uneven and doesn't know what it wants to be as a film. The climax is just the cherry on this bad tasting cake!
Box Office: Kill Dil will take an average opening at the box office because of the late momentum built up through promotions. It can pickup in Delhi UP circuit and surrounding areas but will find it difficult to make a mark practically everywhere else.
Positives:
Some glipmses of genius seen in a confrontation scene, and a song sequence showing dilemma of Ranveer's character
Ranveer Singh, Govinda and Parineeti Chopra give their best
The music is pleasing
The action scenes are shot well
Negatives:
Hackneyed script and no cohesion in script
Ali Zafar is miscast
Parineeti Chopra's styling is atrocious and unflattering
Kill Dil changes genres many times during its runtime
Illogicalities sprinkled on top of the nonsensical dramatic arc
Rating:
Advertisements