Ranbir Kapoor and Anurag Basu can't be any more different from Salman Khan and Kabir Khan even if they tried, but there's one thing which connects them. And that is their persistence to repeat the magic of their previous film by maintaining the tone and nature of it in their next film. Whilst the Khans failed with Tubelight, can Basu and Kapoor reignite the flame of Barfi with another magical film in the form of Jagga Jasoos. Delays aside, the promos have promised an enthralling entertainer for the kids and the classes. Will Jagga Jasoos be able to rekindle the magic of Barfi?
Story: Shruti (Katrina) is a teacher who tells the students in her class the story of a mysterious Jagga (Ranbir), who although a stammerer was an astute observer. We get to know about the man's many childhood mysteries and about how he was brought up by a man called Badal Bagchi (Saswata Chatterjee). Jagga grows up and Badal goes missing. Jagga Jasoos then tumbles into a story of funny shenanigans involving the titular character and his nemesis in the form of a funny negative character played by Saurabh Shukla. Will Badal return? How does Shruti know Jagga and his stories so well? Does anything come out of their relationship? Watch the movie to find out.
Screenplay and Direction: Anurag Basu has nailed it once again. Well, almost. He has come close to the surrealness of his previous film, and has managed to make Jagga Jasoos a rather entertaining film. Kids will lap this film up. The way he interludes the movie with so many songs because of the stammering of his lead character is novel. The idea is ballsy in itself but to go out there and actually execute it requires tremendous guts especially when faced with as many delays as they did. The pace of Jagga Jasoos takes some time to pick up but when it does, it reaches fever pitch. A lot of things happen in too little a time, which can get jarring eventually but the film holds on and makes for a good ride. And the emotions of the film work too, which might eventually make the film worth it for the families.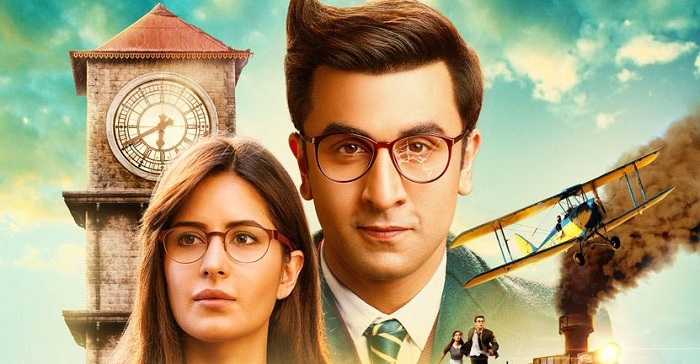 Technically, Jagga Jasoos is a product of the highest order. It looks and feels like an international film, probably because of the involvement of Disney in the production department. The production design and costume design is professionally done and all the exotic locales that they visit give the film an international look and vibe. The editing holds back the film a bit because it can stretch on for too long and a duration of almost 3 hours can be quite tiring to sit through. The music of Jagga Jasoos doesn't match the heights of Barfi, but they work well within the context of the film. Galti se Mistake, Phir Wahi, Jhumritaliya, Ullu ka Pattha and the other songs manage to make a mark for themselves in the movie. What an insane idea to do a musical like this in Bollywood by the makers and a better soundtrack may have made the film even more likable. But what's there, that works too.
Acting: There are very few superlatives which are left to be said about Ranbir Kapoor's extraordinary talent by now and with Jagga Jasoos he reaches another career high. His performance is endearing, and his ability to make the viewer feel the emotional tangent of his character remains unmatched. All in all, Jagga Jasoos is another great performance by Ranbir Kapoor. Katrina Kaif has a difficult task on hand playing catch up with Ranbir and credit where credit is due, she holds up quite well. She emotes well and manages to say her lines without any hiccups or mishaps. The other actors in Jagga Jasoos are finely cast too, and play their part with aplomb. Saswata Chatterjee is in good form, and so is Saurabh Shukla in a role which is too reminiscent of his role in Barfi. But he excels nonetheless.
Conclusion: Jagga Jasoos is an adventure unlike any in Bollywood before this. The movie has potential to make the kids go crazy (especially the last half an hour or so) but it might come at the expense of the adults not finding themselves attached to the fantastical nature of the story. Jagga Jasoos sets up a fantasy world and Anurag Basu doesn't lose the emotional grip of his story even when the sets become grander and the frames become crazier. The film drags on a bit in the second half when too many characters are introduced but it all wraps up decently by the end. If you're in the mood to let yourself be immersed in a desi fantasy, then go watch Jagga Jasoos. If you are easily offended by unbelievable events in movies, then Jagga Jasoos will come across as just a Tintin ripoff to you. Decide wisely.
Pros:
Ranbir is brilliant once again, Katrina is well used
The music carries the film through. Pritam deserves credit
The production design and costume design create a fantasy world
The supporting actors are well cast
The cinematography makes Jagga Jasoos a gorgeous film to look at
Cons:
The film is a bit too long at almost 3 hours of length
The fantasy world might not immerse everyone
Some plot twists might seem too unbelievable to people
The musical aspect might not be liked by everyone
Rating:
Advertisements