It was over two decades ago when the three Khans came on the scene and became the deadly trio. Circa 2012 and nothing seems to have changed. The battle for supremacy continues till date and it is perhaps for the first time in many years, that each of the three Khans, would have a release in a span of less than 50 days.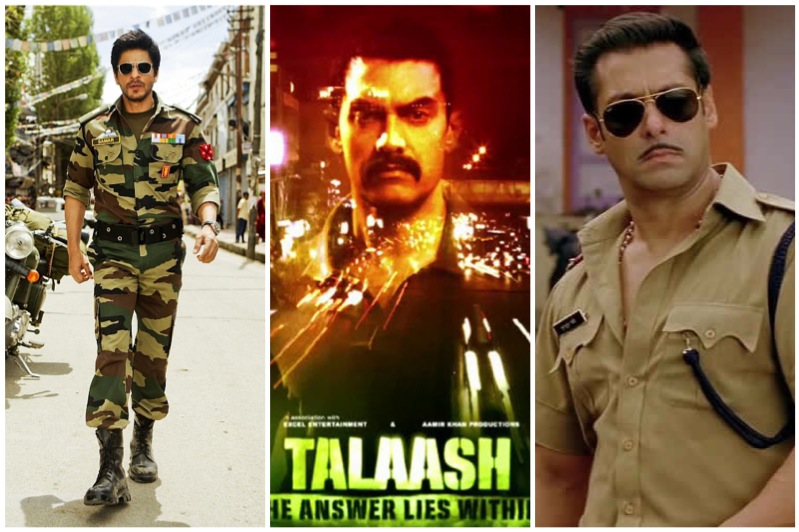 Shahrukh Khan in Yash Chopra's yet untitled film – 13th November
First to arrive is Shahrukh Khan's mega film with the man who started it all when it came to romantic entertainers – Yash Chopra. To state that expectations are humungous would be quoting the obvious. When just a 30 odd second teaser has done the trick, one can well expect the build up in hype that the film is expected to enjoy in weeks to come. With just a little over two months to go for the film's release, there is a planned campaign waiting to be executed, what with Katrina Kaif, Anushka Sharma and, not to forget, A.R. Rahman contributing a big deal to the film's (expected) huge results. This one should be huge!
Aamir Khan in 'Talaash' – 30th November
Wait. Sheer wait! That's the only annoying part of this Aamir Khan starrer which is taking an eternity to hit the screens. Frankly, it is nothing less than exasperating to wait for so long when an Aamir Khan film can just release at a two week notice and still fetch an audience in a jiffy. Really, when a film featuring someone of the stature of Aamir Khan is gearing up for release, you don't really need an elaborate build up around its arrival. However perfectionist that Aamir is, he seems to have well convinced Farhan Akhtar, Riteish Sidhwani and Reema Kagti to hold on to a product till the time is right. Well, we are waiting!
Salman Khan in 'Dabangg 2' – 21st December
Release it next weekend and it would be hardly surprising if the film crosses 100 crore in 10 days, if not a single week. And here we are talking about releasing a Salman Khan starrer without any publicity whatsoever! No, it isn't over-excitement resulting in such claims being made; it is practical reality. For an actor who is coming with four consecutive 100 crore plus grossers behind him, Salman's sheer call to his fan-base, with notice of a few days, is enough to draw audience in hordes. Moreover, what works most is the franchise and the character (Chulbul Pandey) which has been loved the most. Just bring it on!
– Joginder Tuteja
Which film are you looking forward to the most? Voting closes on 15th September! The results will be announced on 16th September. It will be interesting to see which film is the most-awaited Khan film of 2012!
VOTE NOW!
Your most awaited biggie of the year?
Shahrukh Khan's Jab Tak Hai Jaan (47%, 3,188 Votes)
Aamir Khan's Talaash (27%, 1,832 Votes)
Salman Khan's Dabangg 2 (27%, 1,825 Votes)
Total Voters: 6,845
Loading ...
Like the page on Facebook below and ask your friends to vote!
Advertisements