His roles and story lines are inane; He serves over the top humor in the name of commercial cinema; He's becoming repetitive; His choice of scripts is awful; His box office performance is inconsistent.. Well, with the characterization in the words of critics, let me introduce you to the Khiladi of Bollywood, Akshay Kumar. A lot has been said and written over his career and his decisions. No doubt, some of these suggestions/allegations are indeed debatable, there is a larger side of this Rowdy's career which is still lesser known. We would try to uncover all those facts and figures in this write up.
Among his contemporaries, Akshay Kumar is the only actor who made it on his own, without the help of any 'godfather'. It's worth mentioning that except Akki, all the top stars of today kicked off their careers with superhits, winning Filmfare Award for Best Male Debutant each – Aamir Khan (Qayamat Se Qayamat Tak – 1988); Salman Khan (Maine Pyar Kiya – 1989); Ajay Devgn (Phool Aur Kaante – 1991); Shahrukh Khan (Deewana – 1992); Hrithik Roshan (Kaho Na Pyaar Hai – 2000).
Moreover, Hrithik also won the Filmfare Award for Best Actor for his debut film. On the contrary, Akshay's debut film Saugandh (1991) was a box office dud and he had to wait till his 4th film to get his first success in Khiladi (1992). Every actor has to work hard, but Akki has seen that struggle for success very closely.
To earn the Superstar tag which he enjoys today, he had to climb up the ladder of 16 successive flops until he rediscovered himself with Jaanwar (1999), which is considered to be his comeback film and is one of the biggest hits in Bihar of those times. Although, this was a high point in his career, it won't be wrong to term 2007 as the year of his rebirth at the box office. Frankly speaking, he is not a star with the best acting skills, but he is definitely the one who is complete and versatile. Action and Comedy are his forte and he's league ahead of his competitors in these genres.
Below is a graphical analysis of his his career since 2007. Let the numbers speak for themselves.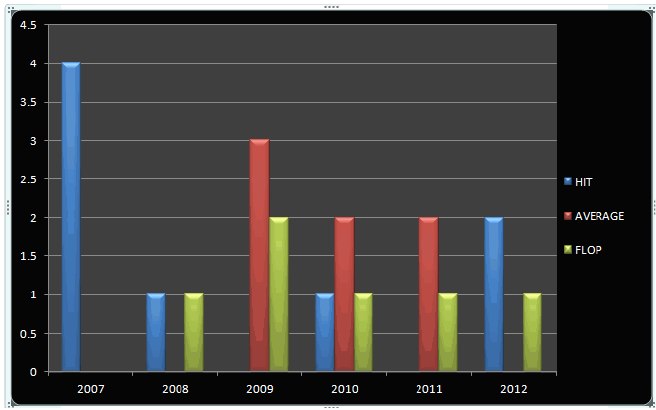 The success-ratio of Akshay Kumar comes out to be 38% (8 Hits from 21 films) which is not very impressive when compared to other superstars. But, what is interesting is, he still manages to leave all his contemporaries behind and holds the numero uno spot in terms of sheer number of hits (Shahrukh – 6; Salman – 6; Ajay – 5; Aamir – 3; Hrithik – 3).
Another notable fact that can be figured out is the timing of his flop films. Out of total 6 flops, 3 came when he tried to experiment (8*10 Tasveer, Patiala House and Joker), 2 were overhyped as compared to their content leading to negative word of mouth (Tashan and Chandni Chowk To China) and one was the result of clash with a brand (Action Replayy – released with Golmaal 3).
Akshay Kumar is the 2nd actor after Rajendra Kumar to have given 4 successive Hits in the same year (2007: Namastey London; Heyy Babyy; Bhool Bhulaiya; Welcome). He still holds this record. Akki is also the only superstar to risk his stardom 3-4 times in a year. While at times he got paid off for this courageous attitude (2007 and 2012), mostly large number of releases have adversely impacted his success rate. In fact he couldn't capitalize on his 2007 success, mainly because of this. But with back-to-back hits this year, he seems to have once again struck box-office gold in 2012.
It's also worth mentioning that he hasn't got any extended weekend releases in his entire career and that's what makes the difference today when it comes to making/breaking records. I believe this is one of the major loopholes in his career decisions which need to be worked upon.
Anyone who has even a slight idea about box office can never doubt Akshay's star power to generate excellent openings and pre release buzz. During 2008-2010, even his average films got bumper openings. It is a fact that has to be accepted that 2011 saw lukewarm openings for his films but quite unexpectedly he came back with a bang making Rowdy Rathore and Housefull 2 amongst the Biggest non-holiday Openers of all time.
Akshay's box office potential may largely be attributed to his huge fan following. And the major reason behind this loyal fan backing is his self-made-man image with no filmy background which appeals radically to the common man. His journey from being a waiter in Bangkok to becoming the Highest Paid Actor is really an inspiration for all youngsters. He has even done some ads to justify this image – Grasim Suiting's Self Made Man, Honda's Dream Yuga and Mannapuram Gold Loan.
Another vital aspect of his career has been working with inexperienced directors. Sajid Khan (Heyy Babyy, Housefull Series) and Vipul Shah (Aankhen, Waqt and Namastey London) – both directors who don't need an introduction today were newcomers when they first worked with Akshay. Sometimes, blind faith may back fire as it has been in the case of Shirish Kunder (Jaaneman, Joker) and Nikhil Advani (CC2C, Patiala House). Akki has worked on two films each with these directors and all have been flops.
Poll: Select your TOP 3 favorite Akshay Kumar Hit. Also share your feedback/comments.
Article by Archit Mishra – Senior software engineer by profession and typical movie buff at heart. Always in search of good bollywood reads and use them in analysing Boxoffice uniquely.
Loading ...
Advertisements